HISTORY
Batalá Mundo — an international samba reggae performance group — was founded in Paris in 1997 by Giba Goncalves, a Bahian percussionist (Ilê Aiyê, Olodum, Muzenza, Male Debale, Jimmy Cliff, Tupi Nago, and Kaoma). One of the founders of the afro bloco Cortejo Afro, an arts education project to help underserved young people living in poor communities, Goncalves moved to Paris in 1997 and founded Batalá as the European wing of the project. Batalá Paris is the oldest of all the international Batala contingents.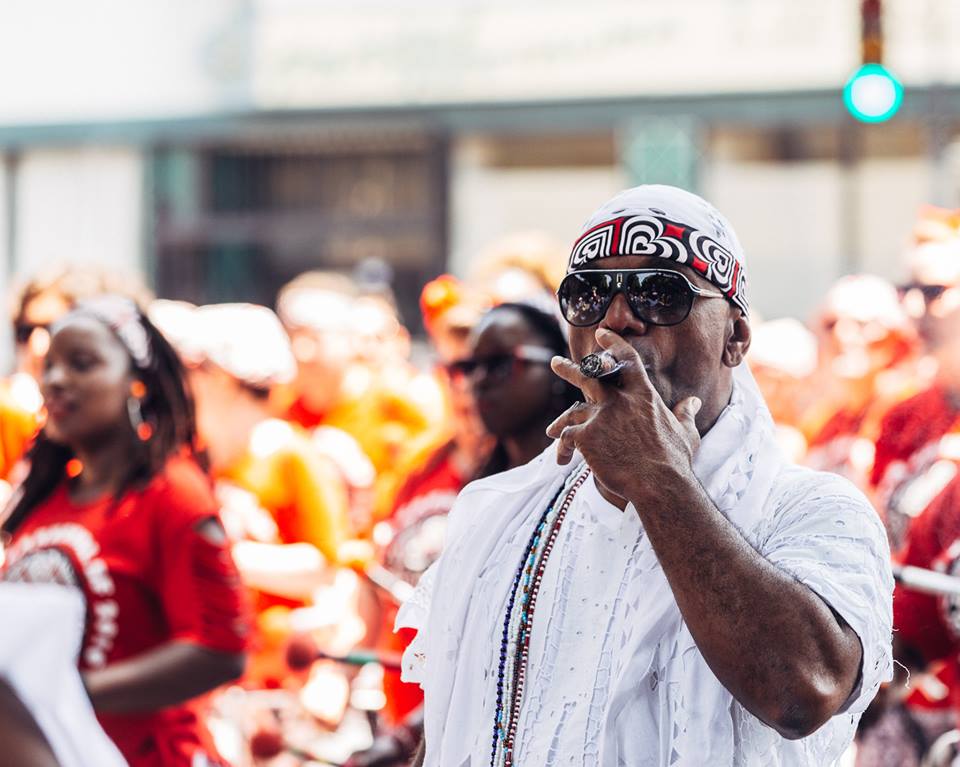 Giba Concalves at Encontro 2016, Carnaval San Francisco, photograph by Andrew Ross-Perry
Cortejo Afro and Batalá share much of the same repertoire and since 1999, Batalá groups have performed every year as part of Cortejo Afro at Salvador's carnaval. Since the group's inception in Paris, Batalá organizations have sprung up all over the globe in countries as diverse as Brazil, England, Spain, Wales, Portugal, Belgium, Austria, Angola, South Africa, and The Netherlands. In the United States, Batalá Washington DC was founded in 2007, followed by Batalá New York (2011), Batalá San Francisco (2012), Batalá Houston (2013), and Batalá Los Angeles (2013), and Batalá Durham, the the newest branch of the Batalá family in North America.
The international movement shares the samba reggae musical arrangements and percussion breaks composed by Goncalves, as well as graphics, costumes, and dance movements. Batalá has a worldwide membership of more than 1000 drummers, and the shared musical and artistic models facilitate various groups' travel from country to country and participation in events together. Batalá drums, sticks and mallets, drum straps, and costumes are produced in Salvador, Brazil, at Instituto Oya and Fabrica Batala under a fair trade agreement.
The name Batalá carries a double reference to the phrase "bateu lá," meaning "hit there" in Portuguese and to Obatalá (Oxalá), the Candomblé deity who is the father of the Orixas and of all humanity. Draped in the purity of white, Obatalá is the source of all that is peaceful and compassionate.